Broadgate Framework – Sir Robert McAlpine
Project overview
Broadgate is a 32-acre central London neighbourhood adjacent to the transport hub of Liverpool Street station. It is located alongside the creative communities of Shoreditch, Spitalfields and Old Street, and borders the City to the south. Joint owners British Land and GIC are investing in Broadgate's evolution into a world class, mixed use destination, bringing people together to work, shop, drink and dine, reflecting people's changing lifestyle ambitions and attitudes. The 10 year Broadgate Framework, for which Sir Robert McAlpine has been appointed principal contractor, currently consists of 4 live projects:
100 Liverpool Street
1 Finsbury Avenue
3 Broadgate
135 Bishopsgate
Services supplied and benefits
Site Eye have worked on most of the Broadgate projects in different capacities. Long range, long term, time lapse filming of construction works at 100LS has taken place from two locations allowing for visual representation of the changes taking place available for internal as well as promotional, marketing use. This has also provided a great monitoring tool for site teams.
Also at 100LS we have had shorter term, temporary cameras filming major activity such as the Fulcrum sculpture jacking. This again has been used for internal reference as well as external marketing and PR – social media and for a more detailed online video with the B1M.
Cameras have also been used on 100LS, 1FA and 135BG to film footfall which is being used by British Land's Assets teams in discussions with potential tenants for the new buildings.
"A pleasure to work with, extremely accommodating & helpful, provided thorough information, jumped on 'urgent' requests and made recommendations as to get top results."
Liz Waters, Sir Robert McAlpine
London Luton Airport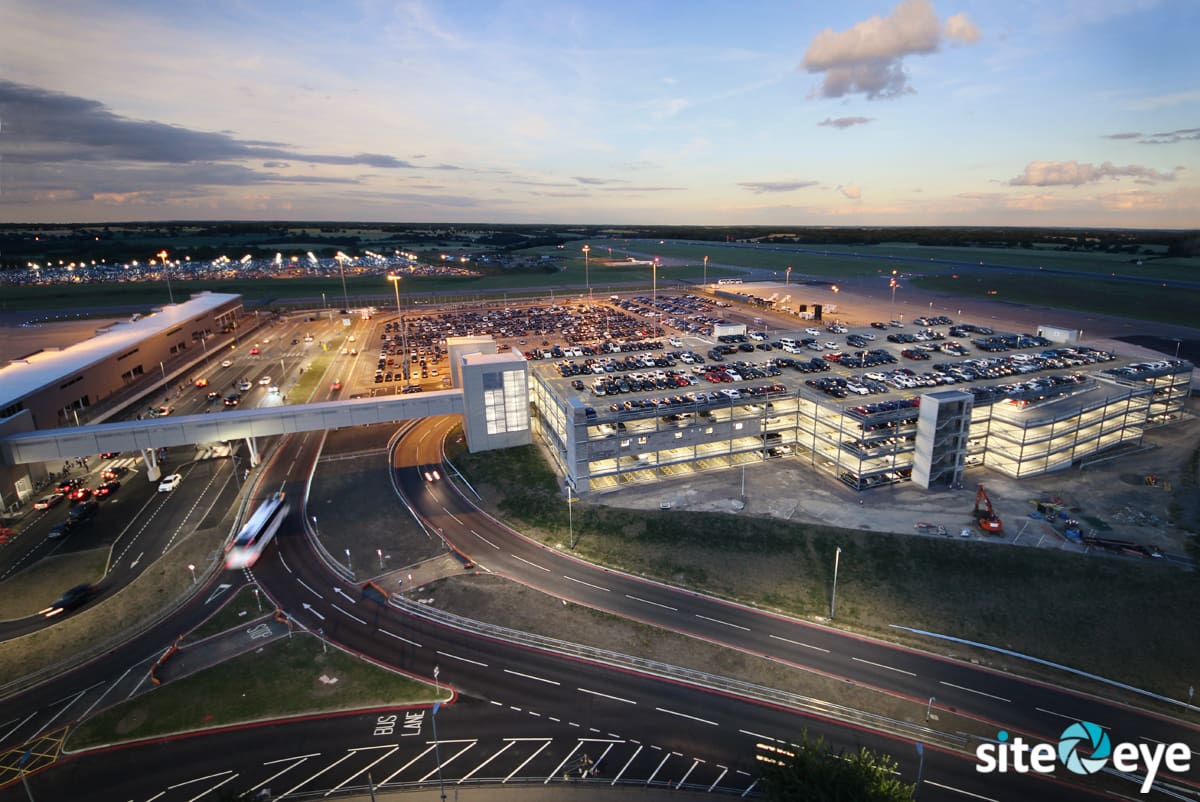 Project overview
Site-Eye were employed to capture the biggest single investment in London Luton Airport's history. This included the construction of a multi-storey car par, dual carriageway access road, additional aircraft taxi-way, new boarding pier and terminal extension.
Services supplied and benefits
Site-eye installed three time-lapse cameras capturing three years of redevelopment and provided online storage, including mobile phone app and monthly videos. The benefit of the website and mobile app was invaluable during the construction, both in terms of monitoring the development and in communicating progress internally and on social media.
It enabled multiple users within the business to access to every image captured in easily downloadable files for a multitude of uses. The monthly video compilations were also very helpful to communicate key milestones.
"Always professional and easy to deal with. Nothing has seemed too much trouble.
"
Neil Bradford, London Luton Airport
Victoria Square, Woking – Sir Robert McAlpine
Project overview
Town centre mixed use shopping centre extension, construction of 3 towers – 2 residential and 1 Hilton Hotel, M & S anchor store, car park and a glazed canopy entrance and energy centre.
Services supplied and benefits
Site-Eye have provided one solar powered timelapse camera from the beginning of the project and recently increased to 3 cameras. They also provided short term timelapse coverage mounted on a tower crane. This enabled complete coverage of site works as required. Also website with photo's and compilations to download = excellent.
"Very responsive & flexible, providing a service we keep coming back to due to the quality, professionalism & back up/data storage."
Paul Hallam, Sir Robert McAlpine
Wembley Park – Quintain Limited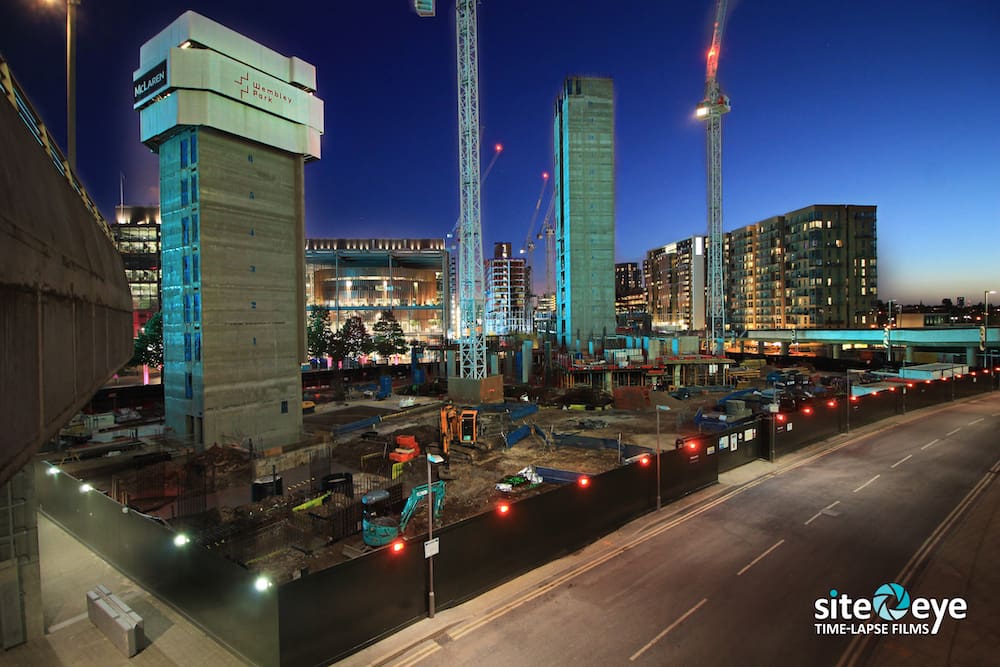 Project overview
For our 85-acre development at Wembley Park, we needed a time-lapse solution that answered both our daily security and vehicle movement brief for each plot as well a wider marketing function.
Services supplied and benefits
Site-Eye provided several cameras to cover each of the nine active plots at Wembley Park. Some required more than one camera. The technical team ensured we were happy with each camera angle, that each camera was mounted securely and an electrical feed was sourced responsibly. Reconnaissance was carried out to ensure the best possible angles were achieved from various vantage points and the post production teams are always on hand to help us turn the time lapse footage into useful film content. Each camera feeds into a central portal that is available to us with a secure log in.
"The Site-Eye team are approachable, helpful and friendly"
Harriet Pask, Project Manager Quintain Limited